This website contains awesome things about awesome bands. Bands such as the following, not all of them, are included in this website but i love them all very much: Green Day, Incubus, Audioslave, The Used, Seether, Staind, Yellowcard, Foo Fighters, 311, a.f.i., MxPx, Good Charlotte, Sugarcult, Billy Talent, Fuel, Maroon 5, Simple Plan, Weezer, Nirvana, Eve 6, Trapt, Jimmy Eat World, Oasis, Saves The Day, Less Than Jake, New Found Glory, Hoobastank, The Exies, Sum41, Blink 182, Three Doors Down, Boxcar Racer, Rancid, RA, Goldfinger, Switchfoot, All-American Rejects, The Ataris, and more but my fingers are beginning to hurt.... yes i am lazy... get over it...
Incubus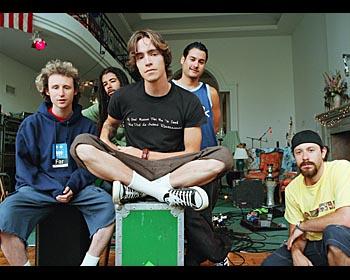 The Story of the Pink Elephantz
It is quite simple actually, the story of the pink elephantz is... They are a civilization on Mars of elephantz who are pink and works in lemon orchards picking lemons for their bosses the red polka dotted penguins... They lived together quite well both having the fear of the evil purple ponies, who could take a penguin's head of and a elephant'z leg off at the same time... they work together harmoniously to rid lovely Mars of all the "purple demons" as they are called on their home planet...
yes i know... nothing to do with music right? once again... you will get over it...


Amy's Input:
Swallowed up in the sound of my screaming
Cannot cease for the fear of silent night
Oh how I long for the deep sleep dreaming
The Goddess of imaginary light
In my field of paper flowers
And candy clouds of lullaby
I lie inside myself for hours
And watch my purple sky fly over me
I linger in the doorway
Of alarm clock screaming monsters calling my name
Let me stay where the wind will whisper to me
Where the raindrops, as they're falling, tell a story
If you need to leave the world you live in
Lay your head down and stay awhile
Though you may not remember dreaming
Something waits for you to breathe again
In my field of paper flowers
And candy clouds of lullaby
I lie inside myself for hours
And watch my purple sky fly over me